How will El Tri line up against Scotland?
Mexico How will Mexico line up against Scotland? Jon Arnold Click here to see more stories from this author In Mexico City 04:07 6/3/18 FacebookTwitterRedditcopy Comments(0)
Mexico Mexico v Scotland Scotland Friendlies Will Juan Carlos Osorio roll the dice and risk injury to more of his stars or take one last look at fringe players? How much willpower does Juan Carlos Osorio have?The Mexico manager said he and his coaching staff "resisted the temptation" of playing star winger Hirving Lozano in Monday's match against Wales. Will he stay strong against Scotland on Saturday in the team's final match on this side of the Atlantic? The injury concerns keeping Hector Moreno, Andres Guardado and Diego Reyes out of the contest may make him reluctant to risk anyone else – he mentioned Lozano and Hector Herrera by name.That said, these are soccer players who want to play, who are coming off big-time European seasons and can give plenty to El Tri. Article continues below Editors' Picks Goalkeeper crisis! Walker to the rescue but City sweating on Ederson injury ahead of Liverpool clash Out of his depth! Emery on borrowed time after another abysmal Arsenal display Diving, tactical fouls & the emerging war of words between Guardiola & Klopp Sorry, Cristiano! Pjanic is Juventus' most important player right now As Goal does before each Mexico match, we've looked at three potential starting XIs for El TrI. Check back for Osorio's decision around an hour before the match, which kicks off at 8 p.m. ET.Standard 4-3-3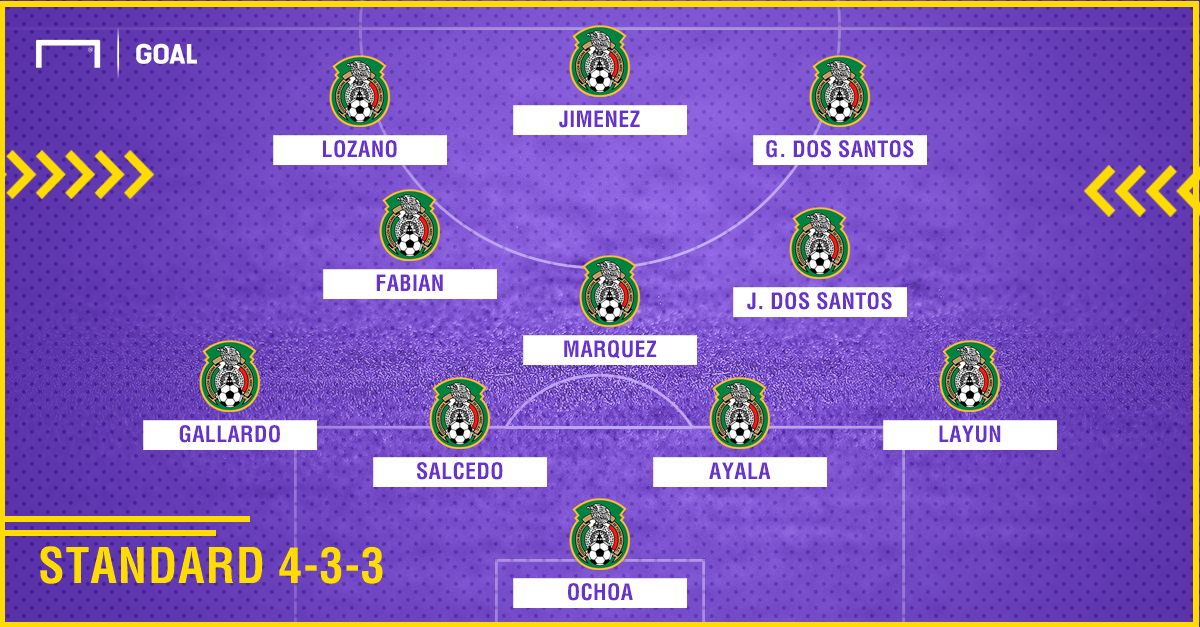 Osorio said Monday that he hopes Giovani dos Santos is fit enough to start and put in a good shift for Mexico. He's hardly a guarantee for Russia, so Saturday night is critical for the LA Galaxy attacker. I went with Raul Jimenez up top after Javier "Chicharito" Hernandez got the start against Wales with Osorio not resisting and tossing in Lozano in this projection.In the midfield, Marco Fabian and Jonathan dos Santos could start with both now well-rested from recent club commitments. Rafa Marquez needs playing rhythm after Atlas missed the Liguilla. He's been working out on his own for several weeks, and was working in the midfield during Friday's training session.At the back, there aren't many options at right back. Osorio may want to see more of Carlos Salcedo at left center back, where he played against Wales and has filled in for Eintracht Frankfurt. If he's seen what he needed to see in terms of Salcedo's ability to fill in for Hector Moreno, he could move to right back with Layun going to the left and Oswaldo Alanis playing left center back.One last look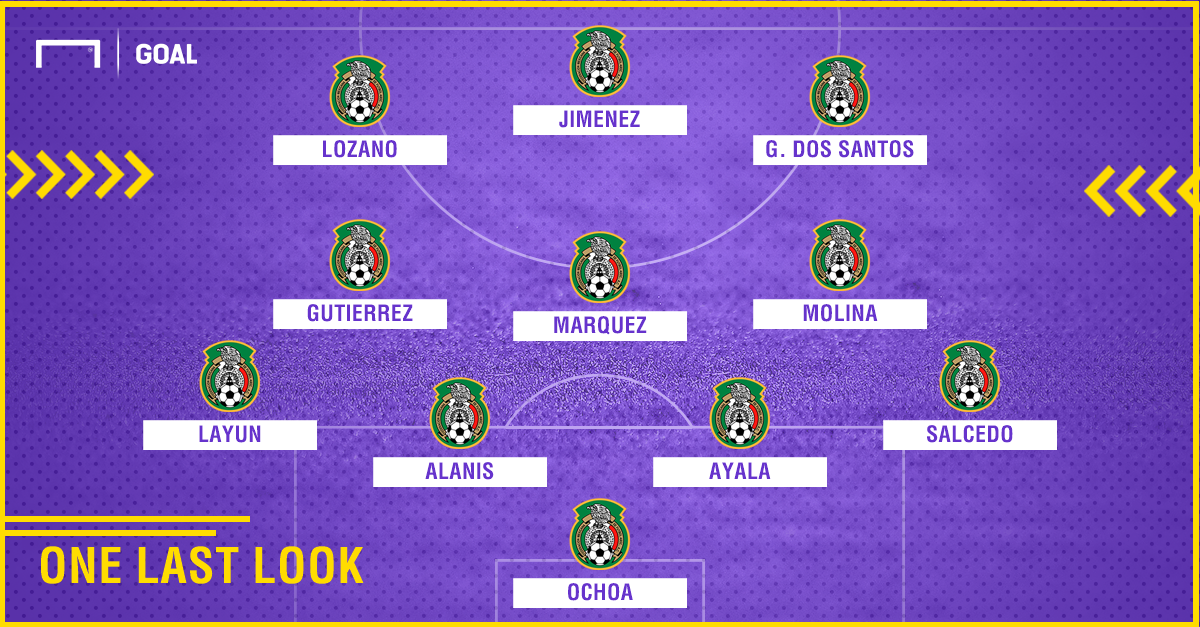 With at least two cuts to make before the trip to Denmark and facing an inexperienced Scotland team, Osorio may hand more minutes to Erick Gutierrez and try Jesus Molina out as an interior midfielder instead of in the middle of the three-man midfield.This also presents another option for how the back line could look with Layun and Salcedo – the likely fullback starters in Mexico's first game against Germany – on the outside and healthy center backs Alanis and Hugo Ayala in the middle. It's a back line you'd expect to hold against Scotland. Osorio is hoping he won't have to see if it could hold against World Cup competition.Really mixing it up
Eh, probably not. It's possible, though, that Osorio works with Layun on the left flank and Jurgen Damm on the right. Marquez and Salcedo are comfortable in a three-man back line, and it might suit Alanis as well to have room to operate to his left.This lineup would be pretty aggressive, and Molina or Gutierrez could also come into the team to provide more cover in front of the three center backs. This would be fun, but it's not really the time for fun experiments. It's time to nail down what the lineups will look like at the World Cup. They won't look like this.